| | |
| --- | --- |
| member | Nigel & Alison Atkey |
| location | River Lee to the Thames, Grand Union and Regents Canal |
| boat | Viking 20 - 'Jemima' |
This is the fifth year we've owned Jemima, our Viking 20, and although we've done 3 trips down the Lee and up the tidal Thames as far as Bray, we'd always returned the same way and never come back via the Regents canal. Last year, the Olympics meant that the Lee was closed and our cruise was in home waters, so 2013 was the year for it.
Sunday 21st July
We set off from Stanstead Abbotts at about 8:30 in the morning and headed south towards Limehouse. On board were myself and friend Steve. Both our wiveshad not been keen on the early start, so the plan was to pick them up somewhere later in the morning.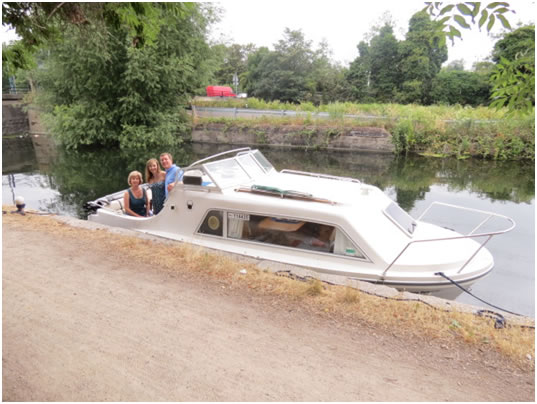 At Waltham Town lock
Unusually every lock was in our favour so progress was very good and we met up with the girls just below Waltham Town lock at about 11.30. That was seven locks in 3 hours, only seven more to go!
We fell in with a narrow boat and continued to make good progress, until we got to Stonebridge lock, where the electric side was not working and the manual side was very slow. Both the gates and the sluices are hydraulically operated and required lots of winding to move them. Luckily our son, his girlfriend and our daughter arrived at this stage to help. We were supposed to meet them at Tottenham lock for the last part of the journey to Limehouse but they had walked up the towpath to meet us. At one point it looked like we were going to spend the holiday stuck in the lock but after nearly an hour of waiting for the water to drain from the lock the gates eventually opened and we were through, only two more locks to go!
We stopped at Tottenham lock for lunch, and then with seven on board set off for the last stage of the trip to Limehouse. I had hoped that after all the work in preparation for the Olympics they'd have cleaned up this stretch of river, but no. Progress was very slow with frequent stops to clear weed, carrier bags and at one time a bed sheet from the propeller. Eventually we made it to Old Ford lock, after which the river is relatively clean and arrived at Limehouse at 17:45, where we moored up in the marina. We'd booked a place there because our daughters' boyfriend now arrived and the plan was for all eight of us to have a 'picnic' on the boat. The weather was great and we spread out over the pontoon to eat.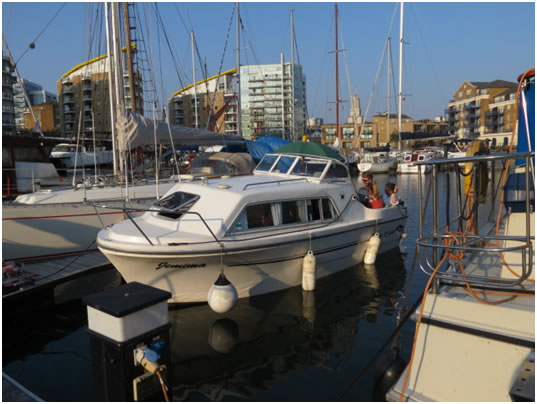 At Limehouse
It was quite late when everyone left, with Steve and his wife Vicky heading off to a hotel, and just myself and my wife Alison left on the boat.
Before bed I checked the fuel situation and hooked up the battery charger.
We'd used 7 litres of petrol and been through 14 locks
Monday 22nd July
Vicky and Steve joined us for breakfast and we were all ready to go into the lock at our pre-booked time of 10:45. Unfortunately some of the narrowboats weren't, so we had about a half hours delay waiting for them to get into position before we finally went out onto the Thames.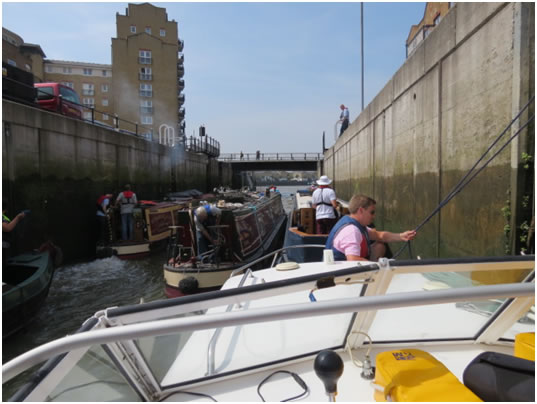 In the lock at Limehouse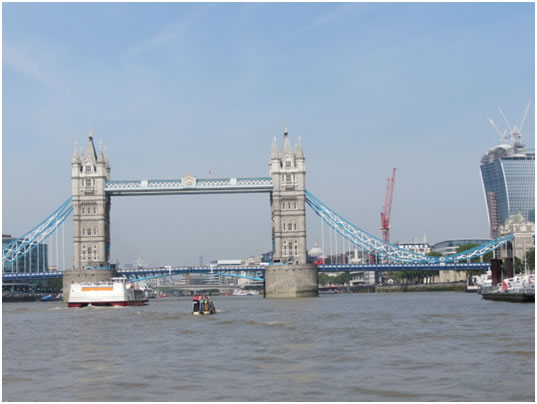 Tower Bridge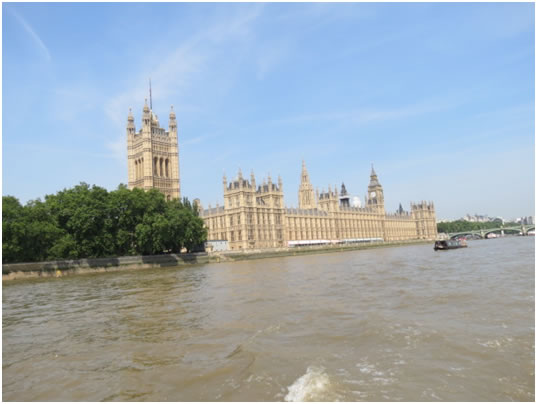 Houses of Parliament
To start with the river was quiet rough, mainly due to the ferries and other boats on the river but once we had passed Westminister Bridge it settled down.
As we checked into the lock at Limehouse the lock keeper gave me a sheet saying that there were engineering works under Battersea Railway Bridge and that we should call 'Battersea Control' on VHF channel 14 when we reached Battersea Road Bridge for instructions about going through.
I've got a hand held VHF and did a half day course to learn how to use it about 5 years ago, I hoped I could still remember the basic procedure. In the event it was a bit hit and miss. At Battersea Road Bridge I duly waited for a gap in the VHF traffic and called up 'Battersea Control' but got a reply from 'Ravenscroft'. After some confusion I was instructed to pass under 2. The bridge had 5 arches, the middle one was blocked by scaffolding and barges, and the others were open. I wasn't sure how the arches were numbered but I didn't think they'd send me over the other side of the river so I went under the second arch on the right. I've found since that bridge arches on the Thames are numbered from North bank to South bank, so I was right!
My passengers weren't aware of any of this as they were wellinto the Champagne (I was strictly on soft drinks, as it's illegal for the skipper to drink alcohol on the tidal Thames), and eventually we reached Richmond where we tied up to very old wooden raft that was moored in the river. It was blisteringly hot so we put up the sun umbrella and had lunch.
Afterwards we dropped off Vicky and Steve to get the train back to London and headed back towards Brentford so we could get into the Grand Union. The tide was still coming in so it was slow progress but we it is only about a mile or so and we got to Brentford Thames lock at about 16:00.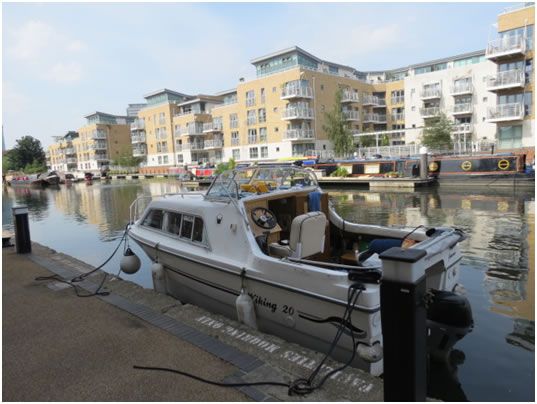 Grand Union at Brentford
Once through the lock into the Grand Union it is a short distance to the first electrically powered lock, where we met two boats from Stanstead Abbotts who had come round via the Regents Canal and Paddington arm and were heading towards Teddington. One of them was a Viking 24 that I had seen locally from time to time. As this was the first time we'd been on the Grand Union it was very good to know that they'd made it round from Paddington where we were heading the next day.
After the lock there was a stopping point, with Elsan disposal and water, but we decided to press on to the bottom of the Hanwell flight as it was still early. Two locks later we were there and managed to squeeze in front of all the narrowboats, the advantage of a Viking 20. Trouble was I then discovered that the toilet cassette was very nearly full and there water tank was very nearly empty. We still had lots of bottled eater though and there was a friendly pub nearby.
Last thing, I checked the fuel and found we'd used 10 litres. I also switched the batteries over to number 2 only and decided to leave the fridge on for the night as it was so hot and we had so much food that needed to be kept cool.
We'd been through 5 locks.
Tuesday 23rd July
The forecast was for scattered thunder storms so I didn't want to hang around too long in the morning. So when I saw a couple of narrowboats in the bottom lock coming down I went to start the engine so I could go into the lock after they passed. I tried battery number 2 first as I was interested to see how much charge was left after the night. There was enough to turn the engine over, but not to start it. No problem, I switched to battery number 1, absolutely nothing. I've got a battery charge indicator but there wasn't a flicker. I tried number 2 again but no joy. Without much hope I opened up the back of the cockpit and tried the pull starter. To my surprise the engine fired up on the second pull. I switched the master control to both batteries and we set off. I had no idea what the problem was but I'd have a look later.
Luckily there was a succession of narrowboats coming the other way so we went up the flight of locks quite easily and the whole thing took about two hours. As we came up in the last lock though the sky darkened and I'd just got the canopy up when the heavens opened and the rain came down. We got pretty wet getting through the lock, but the inside of boat remained dry and it was very hot. We then pulled over and waited for the rain to stop. The rain didn't last long and after half an hour or so we started off again.
At the next lock we could empty the toilet cassette and at the one after that at Bull Bridge fill up with water. At this one I checked the battery control switch and found that the backing plate was loose, I pressed it back into position and found that battery 1 came back. I made a note to have another look when we got to Little Venice and we set off again down the Paddington arm and 12 ¾ miles of lock free cruising!
So far the canal had been pretty clean, though we had picked up one or two carrier bags. The first few miles of the Paddington arm was the same but as we went further there was an increasing amount of weed as well as more carrier bags. We stopped at Alperton for petrol as there is a Sainburys right where the canal crosses the Ealing Road. I had a metal 10 litre can as well as a plastic 5 litre one and didn't have any problems.
Once we were past the North Circular the weed and bags gradually disappeared and the final few miles into Little Venice was very nice. Unfortunately the moorings we hoped to use were full mainly because a couple of hundred yards of bank were closed for towpath repairs, but in the Little Venice basin we found some space on the north side where a couple of private narrowboats were tied up and a guy from the Canal and River trust said we could moor. It was a great position and we were very lucky.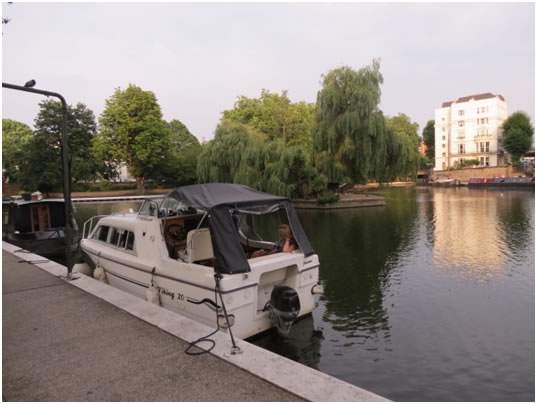 Moored at Little Venice
Once tied up I decided to have a look at the battery switch. I'd hoped to be able to fix it, but as I took it apart the backing plate came off completely. All four plastic mountings for the screws that held it all together had sheared off. All the wires were still bolted to the plate, but there was no way for the copper plate that did the switching to be held in place. At this point we had no electrics. Luckily the common terminal had a lot of thread on it and I was able to bolt battery 2 straight on to it. This meant that I could put the plate back into the now non-functioning switch housing where it was not exposed to anything, and if I needed battery 1 then it would only take a few minutes to swop over.
With the electrics restored we then had time to eat and have a look around the area. One of the problems with providing food for eight people on the Sunday was that we had so much left over there was no opportunity to eat out, which was shame as there were lots of nice restaurants in the area.
That night I took the cool blocks out of the freezer compartment and put them in the main part of the fridge, then turned it off for the night. We'd used 6 litres of fuel and 8 locks
Wednesday 24th July
Today Paul, a friend who had just finished a night shift joined us at 08:00 for breakfast. It started to feel like we were running a café, but we were very grateful for his help and company as we had 11 locks and the Islington tunnel to go through to get back to the Lee.
We set off at about 09:30 and were pleasantly surprised at how clean the Regents canal is, also we had an easy introduction to tunnels with the Maida tunnel that is about 300 yards long. We did this following a narrowboat and it gave me an opportunity to try out my headlight. I bought this from a Motor Factors (it's the sort of thing that you might bolt to the roof of a pickup) and mounted it on a wooden bracket that clips onto one of the handrails on the coachroof. It only has a 55w bulb so can plug straight into the 12v socket. It worked very well and gave plenty of light.
After Regents Park the canal reaches Camden Lock which is a flight of 3 locks. As we went through the first one a narrowboat ahead waited for us in the second. So while Alison and Paul closed the gates and dropped the paddles I headed straight across the pound and into the next expecting them to walk the short distance between the locks. I was half way down before I realised they still hadn't turned up. They eventually did arrived and were a bit annoyed. It seems the lock had a fence around it and you needed a BW key in order to get out. The BW key was of course on the boat, and they had to climb over the fence.
Once through the flight of locks we stopped for a while to have a look at Camden Market, which was very interesting and afterwards reached the St Pancras Cruising Club base. Then came the tunnel, which was a bit of an anti-climax. The headlight worked and we cruised through in under ten minutes. Another couple of locks and we stopped at Victoria Park for lunch.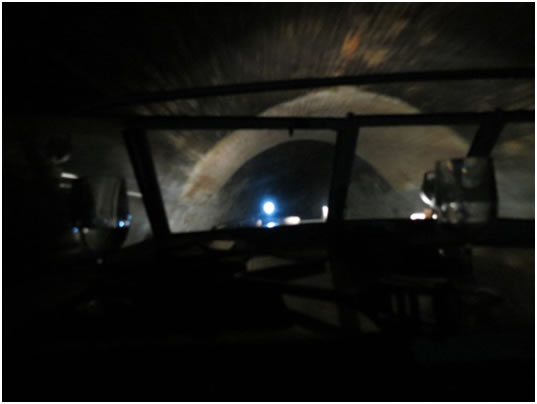 Islington Tunnel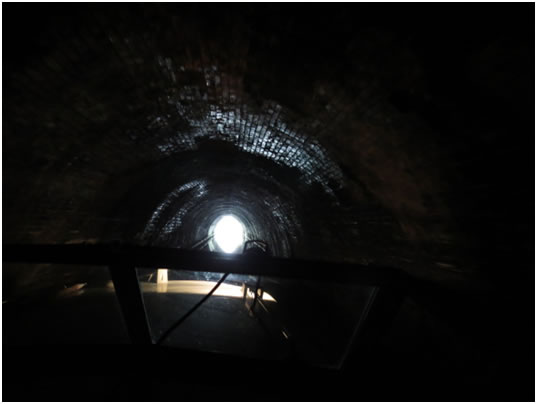 Nearly there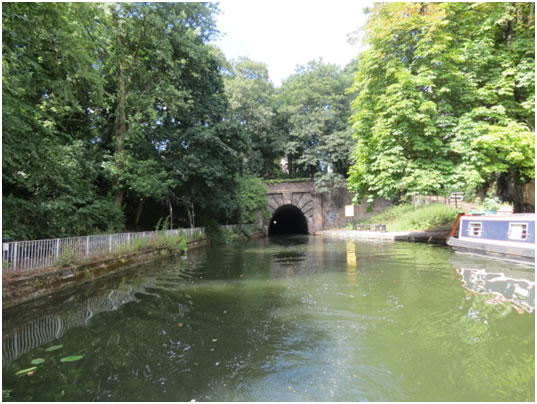 Looking West – the small dot is the other end of the tunnel
After lunch Paul went off to find Bethnal Green tube station so he could go home and finally get some sleep. We turned into Duckets' Cut (aka the Hertford Union) to negotiate another flight of 3 locks to get back to the Lee. We had a to wait a while at the first one as there was a deep draught coal boat in the lock that needed more water in the pound in order to get through it. The answer was to open the sluices and let the water run through to the lower pound.
We got through the locks and back into the Lee at about 4pm and then ran straight into the weed and debris. No bed sheets this time but plenty of stops to get rid of weeds and carrier bags. It was 5 pm before we got to Springfield Marina where we had intended to stop. We decided to carry on through Tottenham lock to be clear of the weed and Stonebridge lock that we'd spent so much time at on the outbound trip. In fact the electric side of Stonebridge lock had been repaired and in spite of both locks being against us we made good time.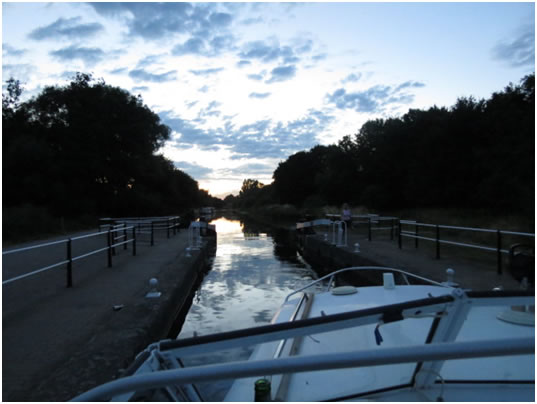 Waltham Common lock
After that we carried on doing 'just one more lock' and unlike the outbound trip, every single one was against us. In the end we stopped at Cheshunt at about 10pm. It was very good to be back in 'home' waters and have all the electric locks behind us. Although they are convenient they seem to be unreliable and this time was no exception. At Enfield Lock one of the gates refused to open, luckily a Viking 20 can just get through with one gate open.
We'd been through 19 locks since Little Venice and used 7 litres of fuel.
Thursday 26th July
Today was our last day and as we only had 5 more locks to do we invited another 3 friends to join us for the final leg. So after our first lie in of the holiday we set off to meet them at Broxbourne for lunch.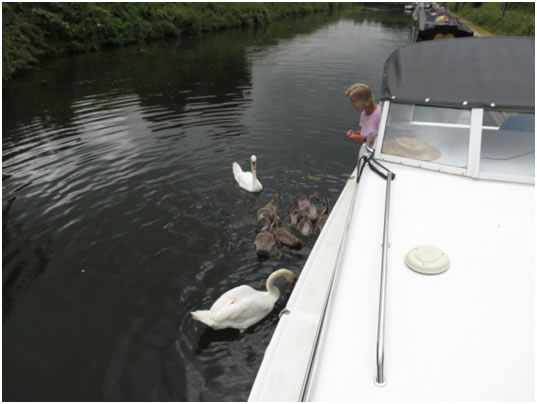 Swans at Cheshunt
All the locks were against us again, but we met up with our friends and after lunch set off again and got back to our mooring at Stanstead Abbotts at just after 5pm.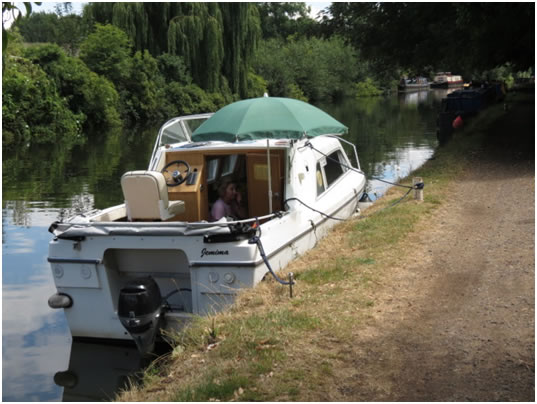 Broxbourne
A final check of the fuel showed we'd used another 3 litres, more or less and been through 5 locks.
It was a very tiring trip but we're very glad we did it. We think next year we'll try and take more time and go further up the Thames though.
Statistics
I've got a 25 litre tank and a stick divided up into 5 sections to keep track of the fuel – not very sophisticated but it works.
I'd started off with 40 litres of fuel, made up of the main tank, a 10 litre metal can and a 5 litre plastic one that all fit in the fuel locker. I bought another 15 at Alperton and had 22 litres left when we got back to Stanstead Abbotts - so 33 litres used. My new engine hours meter was showing 40.1 and had started at 1.7, approx. 38.5 hours of engine use over the 5 days. We'd been through 51 locks.
I then weighed the gas (using a set of scales for weighing luggage) and over the 5 days had used about 1 kilogram of gas.
(Many thanks to Nigel for his kind permssion to include his © photos and text on this site)