Crew Members: Dave and Sue Greatbatch
Location & Starting Point: Strensham Marine (Defford)
Boat: Viking 26 narrow beam Cruiser 'No Way!'
Destination: Cruise North to Evesham then South to Tewkesbury finally returning to base
Estimated Distance: Approximately 50 mile round trip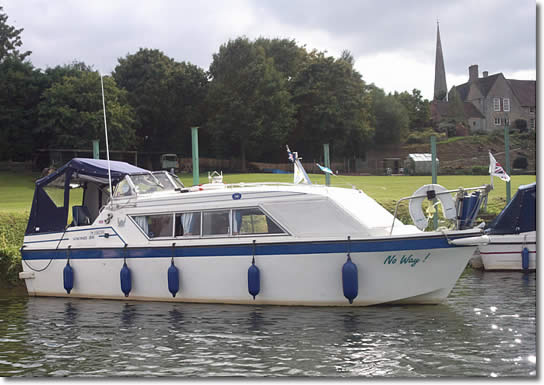 Our boat 2007: Viking 26 narrow beam cruiser fitted with a Honda 25 h/p outboard engine
Planned Journey:
Wednesday 18/07/07: Cruise North to Wyre Island and stop the night.
Thursday 19/07/07: Cruise North to Evesham and stop the night
Friday 20/07/07: Cruise South towards Tewkesbury.
Saturday 21/07/07: Spend the day at Tewkesbury
Sunday 22/07/07: Return to base
---
Fuel: Fuel tank full plus a spare jerry can also full (Approx 7.5 Gallons) Cost £34
Water: Tank full (27 gallons).
Gas: 3 gas bottles on board, 1 full not sure about others.
Communications: 2 mobile phones with charging cables plus 1 VHF radio.
Crew: Sue and Dave Greatbatch
WEDNESDAY 18/07/07
We arrive at the boat yard at around 2pm and after loading and preparing the boat, we decided on a quick drink in the club house before commencing our holiday
We cast off at 3.00pm prompt in fine weather but the river was carrying a touch of extra water due to the unsettled weather we have been experiencing as of late.
We headed north towards the first lock (Nafford) and covered the 1.5 miles in 30 minutes. It took a further 30 minutes to clear the lock but we made good speed from there on passing Comberton Quay and Kingfisher Marina before arriving at Pershore Lock at 4.20pm
It took an hour to clear Pershore Lock due to heavy boat traffic but our destination Wyre Lock was only a mile further up river.
As we approached Wyre Lock we had difficulty mooring due to the extra back flow of water flowing over the weir just below the lock.
We were greeted at the lock gates by fellow boaters Roger and Alison who duly gave us a helping hand with the locking.
Their boat "Huggy" was moored at the back of Wyre Island and they invited us to sit in at their barbeque that they were about to fire up.
We ate and drank and told of our boating experiences well into the night before retiring to bed around midnight.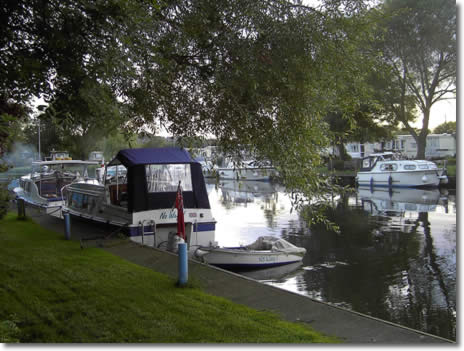 Moored at the back Wyre Island along with Huggy
Total Miles Covered: 7.5
Locks Passed Through: 3
THURSDAY 19/07/07
We were awoken by the chug chug from narrow boat negotiating Wyre Lock which prompted me to make the compulsory pre breakfast mugs of tea.

It was a pleasant morning with some cloud but little wind, the weather forecast for the day was good.

Cropthorne Railway Bridge on route to Evesham
After a hearty breakfast we prepared the boat and thanked Roger and Alison for a very entertaining night, though I was a bit worse for wear as a result.
We the set off at 11.30am cruising at a leisurely pace in gorgeous weather passing the pretty village of Wyre Piddle on our way up to the picturesque Fladbury Mill Lock.
We arrived at Fladbury Lock at 12-10pm and passed through without incident. The countryside was beautiful as we slowly cruised the winding river towards Chadbury Lock on the outskirts of Evesham. Again we passed through Chadbury Lock with no problems and were soon cruising through busy town of Evesham.
We decided to moor on the LANT moorings just below the lock as access to the town centre was easy, also the lock keeper could keep an eye on our boat.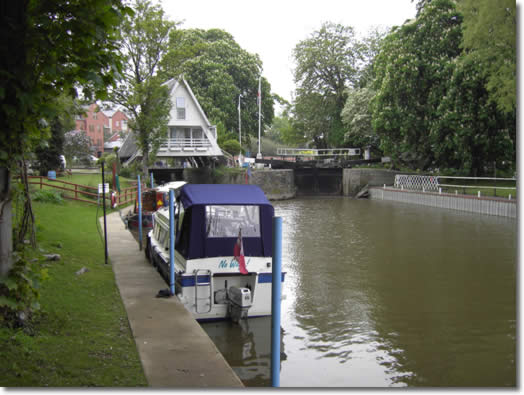 Evesham Lock Moorings
After securing the boat and a nice cup of tea we set off for a walk around Evesham Town centre. We eventually ended up at Weatherspoons for a bite to eat and a couple of drinks.


Lilly Hope
On returning to our boat we noticed two cruisers we recognised locking up ('Hope' & 'Lilly') we gave them a wave and wished them a safe journey as they left the lock. We paid Chris the Lockkeeper our night mooring fee of £3 and asked about tomorrow's weather forecast. He said 'heavy rain but they don't always get it right do they'.
On that we settled down for the evening, Sue watched the soaps on the telly and I decided on a couple of hours finishing in still lovely weather.
As darkness drew near, the skies started to cloud up. I thought if rain is forecast, we best take no chances and have an early start tomorrow, don't want the river catching us out.
Total Miles Covered: 10
Locks Passed Through: 2
--------------------------------------------------------------------------------------
FRIDAY 20/07/07
We woke at 7.30am to heavy rain and decided to set off for home immediately as not to be caught out by a rising river.
We cast off at 8am and noticed the river condition didn't look to bad. I was relieved to see all river level markers were showing green.
We reached Chadbury Lock within 25 minutes and passed through without incident, again the lock river level markers were showing green.
Good progress was made in dreadful weather conditions on the three mile cruise to Fladbury Lock. Sue decided to cook breakfast on the move as to avoid any unnecessary delays.
The lock was against us on arrival at Fladbury, so we decided to tie up and eat breakfast while the lock was filling. Again the river level markers were showing green.
It took 20 minutes to finish breakfast and clear the lock, but on leaving we noticed the river level markers we now showing amber and there was a distinctive pull on the river flow. My thoughts were to make speed as we had two low bridges to negotiate on route to base.
We made good time after departing Fladbury Lock, it took only 45 minutes to cover the 4.2 miles to Wyre Lock. A change of clothes were made on route to as we both received a soaking while locking down at Fladbury.
On reaching Wyre Lock I was surprised to find the river level markers were showing the high end of green which made me feel thesituation wasn't as severe as I thought, however I still warned a passing narrow boat leaving Wyre lock of the rising river upstream.
In still pouring rain we passed through the lock with no problems and made hast to Pershore Green town moorings where e we had a planned stop for fuel. The filling station was 500 yard across the green which was awash with rain water.
On returning to the boat and yet another change of clothes we set off on the short run to Pershore Lock. I was hoping the river level would be something like normal below the lock as half a mile downstream was the first of the low bridges.
On reaching the lock, Sue run ahead to close the bottom lock gates as the lock was against us. As I was making safe the boat two smaller boats arrived and requested to lock down with us. At that I hear Sue shouting 'the pontoons can't be seen at the bottom of the lock'. In disbelief I walked down to investigate and low and behold they were truly well under water with the river level markers showing red.
The rule of the river states you must seek a safe haven when the markers show red. On that we abandoned any further plans to travel downstream, however the two smaller boats were willing to give it a go.
At this we decided to turn about and cruise the short run upstream back to Pershore Green town moorings where the river had rose a good 10 inches from when we left only half hour ago.
Not really knowing what to do next and with the river coming over the low banks at Pershore Green I decided to contact our Marina Manager for advice.
He gave us a contact phone number for Wyre Mill Marina one mile upstream and told us to seek a safe mooring as soon as possible, which we duly did. We were given permission to tie up at the loading quay at Wyre Mill until the river fell to a safe level.
As we left the town moorings the two small boats that we met at Pershore Lock appeared and moored up behind us. We were both relieved that they had seen sense and not risked the low bridge and fast water below the lock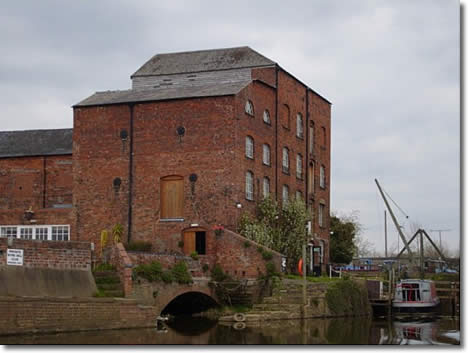 On the left the loading quay at Wyre Mill Marina
We arrived at Wyre Mill Marina within fifteen minutes and soon spotted a three foot loading quay which had a seven foot retainingwall directly behind it with steps leading up to the club house. With the rain still pouring we secured our boat to the mooring rings ensuring all ropes returned to the boat where they were tied off so as adjustments could be made on the rising river.
We felt quite safe now and prepared to sit out the rain storm and rising river, possibly moving off the moorings after 24 hours or so. Though we never planed it, this delay didn't cause us any concern as Wyre Piddle has a very nice pub with good food only one mile up the lane.
After half hour or so the two cruisers 'Hope' and 'Lilly' we met at Evesham Lock the previous day come batting at rate of knots downstream obviously heading home to beat the rising river..
We both thought they won't get far and as predicted they were back twenty minutes later looking for safe moorings. The leading cruiser 'Hope' went passed us at slow speed but the other 'Lilly' came straight over to us and requested to tie up alongside, which we agreed on.
Both boats were lashed together and after a quick discussion it transpired that the crew of Lilly Andy and Karen had to leave as to pick up their dog from the local kennels before night fall.
We agreed to look after their boat and adjust ropes accordingly to suit the rising river. After exchanging phone numbers they left intending to return later that evening.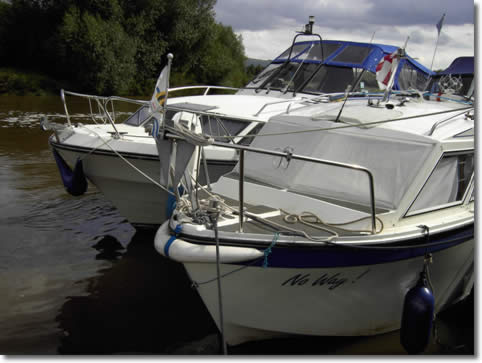 Lilly & No Way lashed together
It was now approaching 5pm and it was still raining heavily with the river slowly rising. By 6pm the three foot quay we were moored against disappeared under the rising river giving fears that when the river falls our boat could well end up on top of the quay. To remedy this we wedge our dingy between the seven foot wall and our boat as to keep our boat in the correct position relative to the quay.
We had some tea and found ourselves glued to local radio station listening to the disaster that was unfolding all around us. Motorways were being closed, helicopters were being scrambled and people being evacuated from their housed due to the threat of severe flooding.
Though we both felt quite safe as darkness came we were a bit worried that our neighbours Andy and Karen hand not yet returned to their boat. I gave them a call and they informed me all roads in the area were blocked and it was impossible to return to their boat that night.
I also contacted our home marina regarding my car. The marina manage ensured me my car was well up the bank from the river side so quite safe.
As the night went on, slowly our boat rose up the seven foot wall brick by brick and as the wall had out side lights there was no need to use our internal boat lights as two of the wall lights shone directly through our windows.
Total Miles Covered: 11
Locks Passed Through: 3
SATURDAY 21/07/07
At midnight the wall lights fused out as a result of the rising water and we found ourselves in temporary darkness with only the noise of rushing water and creaking wood as pontoons started to break up.
Dark shadows of boats could be seen listing badly as no one was there to adjust their ropes. It was truly out of the question of us leaving our boat in darkness as water was now all around us.
As time went on we could not sleep and we both kept dressed just in case we had to somehow abandon our boat. Loud crashes could now be heard as boats righted themselves from their heavy lists smashing up their mooring as they did.
At 2am I contacted Andy and Karen from Lilly and informed them that things were getting bit out of hand and for our own safety we might have to leave both boats in the lap of the gods.
I also contacted the emergency services as to let them know of the situation we found ourselves in, as very few people were aware that we were still on our boat. They replied that we were a low priority while we could still adjust our mooring ropes, which I accepted but I don't think my better half saw it that way.
Never the less a helicopter was hovering above us within the hour, shining a huge search light on us. He left after waving to us and move off half a mile upstream along with another helicopterand they both started to lift people off the top of caravans as they were in danger of being washed over the weir just upstream of us.

The helicopter visited us again later in the night but again moved off, this time downstream. He seemed to be lifting people off the two small boats we left at Pershore Green Town moorings.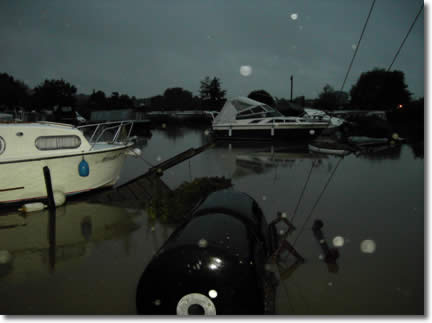 It was getting a bit hairy during the hours of darkness
As daylight came, all seemed to be getting a bit dangerous. The wall to our port side had disappeared under the river and the area immediately all around us resembled a war zone. The lane was a raging river full of debris, boats were being pulled over, cars and caravans had only their roofs showing and there was no dry land to be seen anywhere.


Two narrow boats And now there's one
At about 5am there was an almighty crack as the stern riding post of a 60 foot wide beam narrow boat snapped resulting in her back end swinging out into mid river. Then here bow riding post suddenly give way, she then spun round in mid river and set off not down river but across the field which was now part of the river. It was still raining at 8am and the river was in an atrocious condition with all sorts of debris flowing with it. There was no way of getting off our boat as raging water was all around us and getting in the dingy was a none starter for my better half.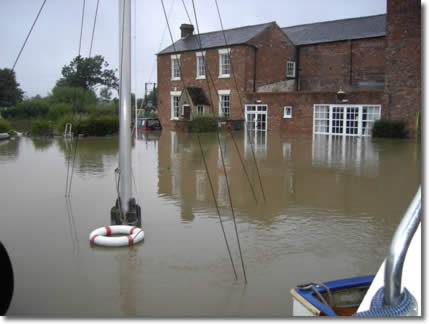 Wyre Mill Club House
At 9am some bloke came out of the club house front door in chest waders even though it was best part submerged. He headed over to a partly submerged 4x4 to retrieve his sat nav. He asked if we were ok which we promptly replied 'NO can you get us off'. He replied I will see what I can do.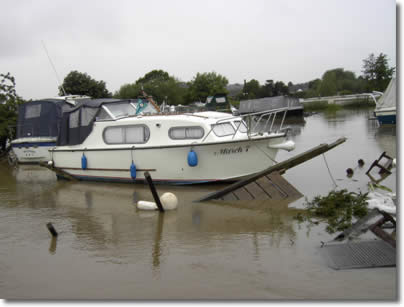 It all resembled a war zone
A further hour passed and then a large dingy complete with outboard and three fellows appeared from down the lane, which was now a raging river. After adjusting mooring ropes on half a dozen cruisers they came over to help. They helped Sue climbed into their dingy and as there was no room for me I had to be towed behind them while seated in my own dingy. We passed around the back of the marina club house when a wall collapsed spilling all from behind it into the path of my dingy which it nearly tipped it over. We had to be taken one and a quarter miles to dry land. To top it all I received a text message from our home marina informing me not to bother with my car as it had disappeared under water.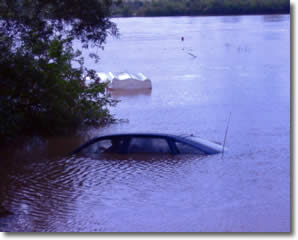 My beloved Cavalier
The full extent of the devastation could be seen as we were taken up the lane, everything was under water, boats were strew everywhere, caravans were wrecked, cars were submerged and raging water seemed to be coming from everywhere. It was a complete disaster all around.
We were dropped off at the top of the lane in soaking clothes, with only our mobiles wallets and a camera, everything else was left on the boat. We were escorted by a group of people in authority to the local pub where we were given a welcome cup of tea
Within ten minutes of being rescued Andy and Karen from 'Lilly' contacted us and informed us of their major problems in trying to reach us. After a further hour they finally arrived and informed us they had booked us into a local hotel in view of our circumstances.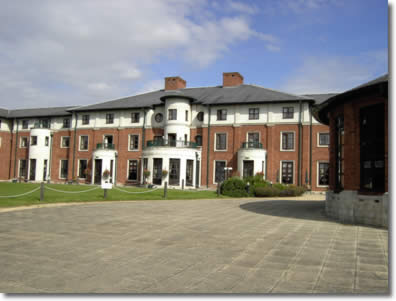 It took us an age to reach the hotel due the whole area being a disaster zone with cars abandoned everywhere and local streams had turned into raging torrents. Police had closed many roads as they were impassable, it all seemed to be untrue as after all it was mid July
As Karen worked at the hotel she escorted us to the reception looking like drowned rats, both of us found it very embarrassing at the time as there was a wedding reception taking place with everyone in evening dress apart from us.
We were led up to our room and were amazed at the high standard of accommodation. It was an en-suited room and complimented with a large double bed with dressing gowns laid out for us.

We were both desperate to dive into a hot shower and get out of our damp clothes. Our evening meal was bought up to our room and we were informed breakfast commences at 8am the following morning and you could eat as much as you like. It all seemed to good to be true.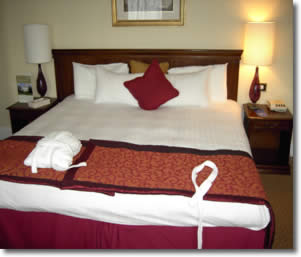 A large double bed complete with dressing gown
SUNDAY 22/07/07
The following day the skies cleared and we awoke to a beautiful morning. It all seemed like a bad dream and after a good breakfast we made arrangements to be picked up by friends as to take us home.
As we waited for our lift in the reception area, families were arriving from the neighbouring town of Tewkesbury as it was completely flooded out and people had to abandon their houses.
Tuesday 24/07/07
It was Tuesday evening before I could reach our boat and then I had to wade thigh high in water down Wyre lane to the marina. The flow was still strong and full of debris from sheds caravans, and boats. I was glad that Sue had decided to stop at home as she would have never made it down the lane.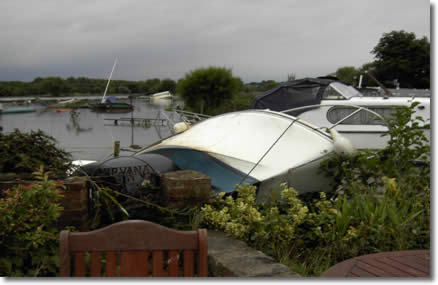 The disaster that greeted me on arrival at the Marina
I had my fingers crossed when reaching the marina hoping the boats were ok. On the entrance I spotted an upturned boat and may others half on the bank or listing badly. I was so relieved to see our two boats as we left them. The river had dropped off dramatically and as a result my bow rope had pulled down part of the marina wall. This seemed to act as an anchor and help stabilise the boats position relative to the quay side
Andy and Karen's boat 'Lilly' seemed untouched and our boat had only a slight gel coat graze on the port bow where she had caught the quay side on the falling river, mind you I never seen my dinghy again, it was ether washed away or stolen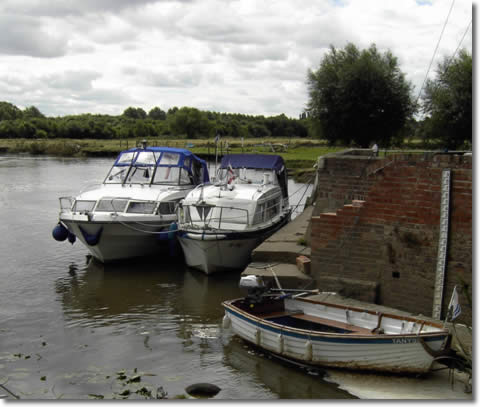 Our two boats and the smashed wall after the flood
We departed Wyre Mill Marina the following Friday as the river had fallen back to near normal conditions. We had problems at Pershore Lock due to tons of silt and debri fouling the gates, but with help from other boaters we managed OK. Some of the sights we witnessed on the eight mile trip back to base were unbelievable with wrecked boats every where, in trees, fields even ontop of riding post and sluice gates.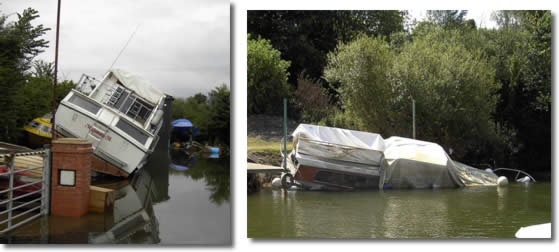 Wreckage was all around us
Parts of boats and caravans could be seen littering the riverbanks the whole journey back. The banks were all full of silt and debris from moorings caravan sites and marinas.

Smashed moorings at Wyre Marina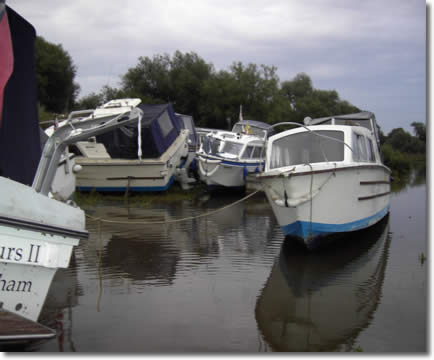 Our Home Marina was a disaster zone also
We arrived back at our home marina to a disaster site 90% of the boats were washed off their riding post and ended up in fields or travelled two miles downstream to the next lock. Luck would have most were returned safely with only minor damage. I was glad that we never made it back to base as we would have defiantly been washed off our moorings
Total Miles Covered: 10
Locks Passed Through: 2
Summary Of Trip
Though the first few days of our trip were enjoyable all in the entire entire trip had to be classed as more of an adventure/nightmare as things could have gone very wrong. Compared to some, we were lucky as we only lost our car and dingy with slight damage to our boat. Many people were flooded out of their homes for months and having to live in caravans on their front garden while repairs took place.We both agreed that the night of the 21st July 2007 will be remembered till our dying day
Total Distance Covered: 35 miles
Average Cruising Speed (Excluding Locks but including bridges): 4.65 mph
Maximum Speed: 6 mph
Fuel Used: Approx 9 Gallons (£36)
Miles Per Gallon: Approx 10
Actual Cruising Time: 20 hours 50 minutes
(Many thanks to David for his kind permssion to include his © photos and text on this site)