BOATING HOLIDAY 2006
Member: Dave and Sue Greatbatch
Location & Starting Point: Strensham Marine (Defford)
Boat: Viking 26 narrow beam Cruiser 'No Way!'
Destination: Sharpness Docks (Gloucester & Sharpness Canal) & Return
Estimated Distance: Approximately 80 mile round trip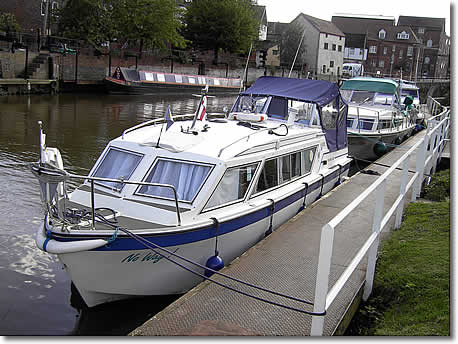 Our boat 2006: Viking 26 narrow beam cruiser fitted with a Honda 15 h/p outboard engine
Planned Journey:
Saturday 16/09/06: Late start due to work commitments, stop the night at Tewkesbury.
Sunday 17/09/06: Aim to make Gloucester Dock for the nigh if possible.
Monday 18/09/06: Aim to pick up family members at Saul Junction and give them a short trip along the canal including lunch somewhere.
Tuesday 19/09/06: Aim to visit Sharpness Docks as to view the River Severn and then look for a comfortable night mooring.
Wednesday 20/09/06: Head for home possibly stopping the night at the Lower Lode Pub or Tewkesbury.
Thursday 21/09/06: Aim for home moorings on the River Avon late afternoon.
---
Fuel: Both fuel tanks full plus a spare jerry can also full (Approx 11 Gallons) Cost £44
Water: Tank full (27 gallons).
Gas: 3 gas bottles on board, 1 full not sure about others.
Communications: 2 mobile phones with charging cables plus 1 VHF radio.
Crew: Departing home moorings with Sue and Dave Greatbatch picking up Ethel Greatbatch (Mother) Alice Parkes (Sister) and Peter and Ann Greatbatch (Brother and Wife) on route.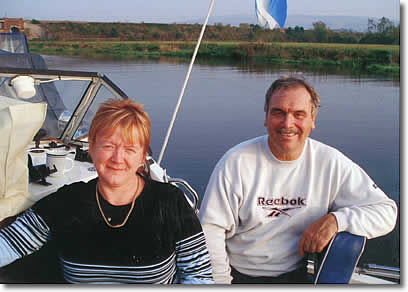 Dave & Sue Greatbatch
Saturday 16/09/06
We managed to arrive at the boat yard at around 2pm and after loading and preparing the boat, we decided on lunch at the club house.
We treated ourselves to a nice steak dinner complimented with a few drinks as to start the holiday right.
We soon got into the mood of chatting and drinking with other boating members and begrudgingly left the club house at 4.15pm which gave us little chance of passing through Avon Lock on to the River Severn as it is manned and shuts at 5.45pm prompt.
We cast off at 4.30pm in fine weather heading south towards the first lock (Strensham). We covered the 1.7 miles in 20 minutes and it took a further 20 minutes to clear the lock. Making good speed we passed Breedon Marina the M5 motorway and the Fleet pub. The outskirts of Tewkesbury were soon insight but as we thought we were to late to pass through the Avon Lock.
We arrived at King Johns Bridge and Avon Lock at 6.00pm averaging a speed of 5.7 mph, there were plenty of moorings but we decided to cruise to the end of navigation on the pretty Mill Avon before mooring up for the night close to the Avon Lock.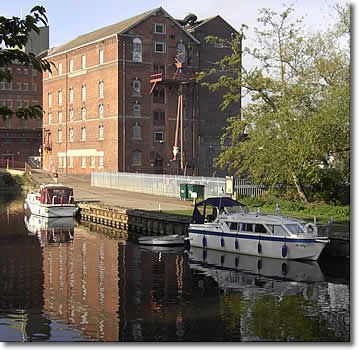 The Mill Moorings (Mill Avon)
Total Miles Covered: 7
Locks Passed Through: 1
Average Speed: 5.7 mph
Fastest Speed: 6
---
Sunday 17/09/06
We were awoken by a passing narrow boat attempting to negotiate the Avon Lock which prompted me to make the compulsory pre breakfast mug of tea.
It was a pleasant morning with some cloud but little wind and the forecast was good.
After a hearty breakfast we prepared the boat and entered the Avon Lock at 10.40 am. The lock keeper checked our British Waterways Licence and we were soon on our way. We departed Avon Lock at 10.50am and arrived at Upper Lode Lock on the River Severn at 11.05am, it's about 1 mile distance.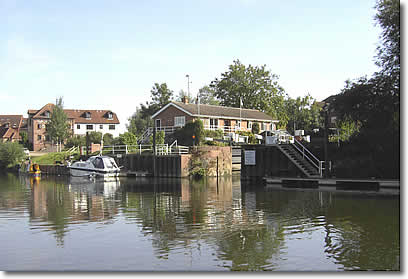 Departing The Picturesque Avon Lock
The Lock keeper informed us that the tide would hardly be noticeable down to Gloucester but he would radio ahead informing Gloucester Lock that we are on our way.
We made good time after departing Upper Lode Lock; it took 2 hours 15 minutes to cover the 12 mile distance to Gloucester Lock. The partings (where the River Severn Splits) again needed care as the river is very narrow here and the current picks up pace considerably.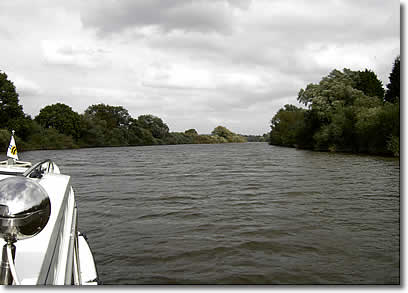 Heading South On The River Severn

As Gloucester Lock came into sight the engine was put astern as we attempted to draw along side the river wall on port side. The idea being to hang on to the chains hanging down off the River wall until the lock keeper gives us the green light as to enter the lock.

The Daunting Gloucester Lock

As we entered the deep lock, hooks were lowered down as to hook over our mooring ropes. Our ropes were then lifted up and taken around bollards then passed back down to us. We then hung on tight while the lock level rose.
After departing Gloucester lock, good mooring were found on the dock pontoons, which gave us good access to the dock shops and toilets.
As I settled down to an afternoons fishing I was approached by the bridge keeper of the dock. He informed me they were experiencing difficulties in lifting Llanthony Bridge and there could possibly be delays tomorrow morning. The funny thing was, the same problem occurred when we were down here last year. He informed us to keep channel 74 open on the radio, as an update will be given the following day.
I managed to catch a few fish before retiring for the night.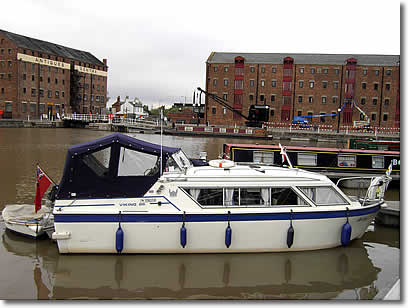 Good moorings were found on the Dock Pontoons for the night
Total Miles Covered: 13
Locks Passed Through: 2
Average Speed: 4.66 mph
Fastest Speed: 5.33 mph
---
Monday 18/09/06
The skies were overcast and looked threatening when we awoke and after a good breakfast the boat was made ready to sail, however we had to wait for the bridge update before any plans to sail could be made. A phone call earlier from my brother confirmed the remainder of the family were on the way to meet us at Saul at about 1pm.
The go ahead on the bridge was given at 11am so it was all ahead full as to meet the family on time. The weather started to pick up as we cruised south and we seemed to be making good time as we passed swing bridge after Swing Bridge with very little delay.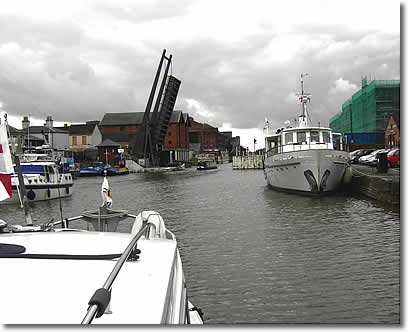 The annoying Llanthony Bridge

We arrived at Saul junction at 1pm where we topped up the water tank and emptied the rubbish bin. My better half informed me that my brother Peter had rang informing us he and the rest of the party had arrived but were struggling to find us. After a quick chat with my brother I soon realised they were all at Frampton about half a mile down the canal at the next bridge. Obviously my sisters navigation skills left a lot to be desired.
We soon spotted them through the binoculars, and when all were aboard we set off south looking for a place for lunch. We spotted a canal side café / chandlery shop at Slimbridge which seemed ideal, as there were also good moorings there, we decided it would do.
After lunch we took a short walk down the canal admiring some of the coastal cruisers moored up.
We departed Slimbridge at 2.30pm and cruised down to Purton Swing Bridge where we turned around heading back to Frampton as to drop off the family for their car journey home. As there were good mooring there we decided to stop the night especially as there was supposed to be a good pub close to the village green.
We found the pub and indulged in a couple of drinks and a chat to the locals, but on departing at around 10pm the heavens opened up and we were both drenched by the time we walked back to the boat. A nice cup of hot tea was made and we retired to bed early.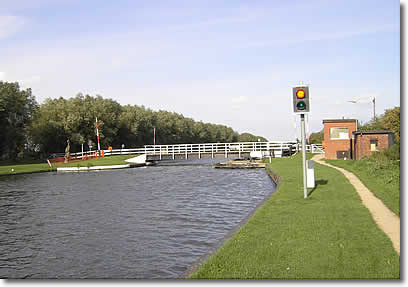 Patch Swing Bridge
Total Miles Covered: 21
Bridges passed through: 15
Average Speed: 4.3 mph
Fastest Speed: 6
---
Tuesday 19/09/06
We awoke to clear skies though a bit breezy and after the compulsory smoky bacon breakfast set off for Sharpness Docks at 11.20 am passing Slimbridge and Purton. The River Severn estuary could now be seen and looked awesome and somewhat threatening. You could understand why the canal was built as the river looked un-navigable and dangerous.
We arrived at Sharpness at 1.15 pm and found good mooring at the top of the marina with an excellent view across the River Severn estuary. There was also a water point there and a couple of narrow boats who were also admiring the outstanding views across to Wales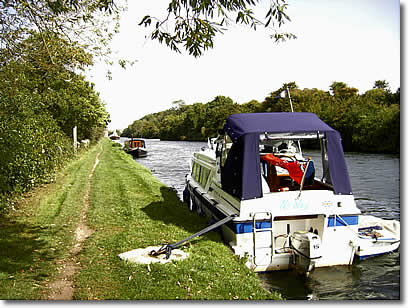 Moored at Sharpness
After a nice cup of tea and securing the boat, we set off for a walk down the towpath and through the marina looking for the Dockers Club. We eventually found it up over a hill and the other side of the marina, however it was closed until the evening. Mind you the views were fantastic and the walk done us good.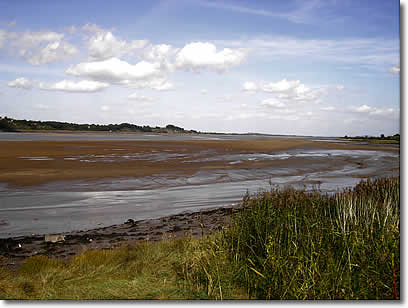 View across the estuary
The weather was turning for the better as we departed Shapness at 3.00 pm cruising slowly north for Slimbridge for a night mooring. We arrived at 4.00 pm where a touch of fishing and a nice steak meal in the local pub finished the day off nicely, However the weather forecast for the next day was heavy showers and strong winds.

Total Miles Covered: 11
Bridges Passed Through: 8
Average Speed: 3.82 mph
Fastest Speed: 4 mph
---
Wednesday 20/09/06
Due to the bad weather forecast and possibility of rising rivers, we decided to make an early start and with luck could possibly make Tewkesbury for the night. It was raining heavily and blowing a gale when we awoke. We finally got out of bed at 7.30 am and Sue cooked the breakfast while I prepared the boat. We were underway at 8.15 am heading towards Gloucester at two thirds speed, hopefully Llanthony bridge will be on its best behaviour as we could ill afford any delays.
Good progress was made in the dreadful weather, with few delays at the many swing bridges along the stretch. We arrived at a fuel stop just outside of Gloucester at 9.35 am and it took only 15 minutes to fuel up and stock up of some needed stores.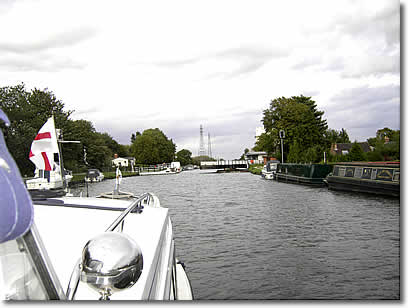 Hempsted Bridge (Near Gloucester)
We were soon under way again and as we approached Llanthony bridge the lights changed from red to green and she started to lift.
There was a slight delay at Gloucester lock as King Arthur (Cruise Boat) was passing through, We struggled to hold our boat steady in the basin due to the strong wind so we decided to tie up until the lock was in our favour.
With in 15 minutes were we departing the lock and heading up the partings. The tide was against us but we made steady progress, the main problems being debris floating down the river. Sue kept a watch on out port side and I watched starboard.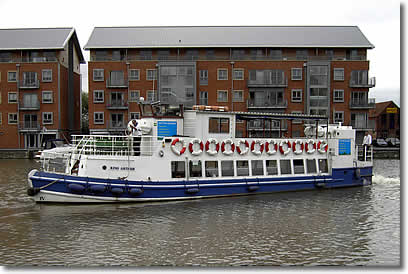 The Cruise Boat 'King Arthur'
The long haul up the Severn now started and it soon became clear that it would take considerably longer to cover the distance travelling upstream as apposed to down stream.
As we left the narrow partings our speed increased slightly as the current was not so severe but we still hugged the bank as to make the best speed.
It took 2 hours 50 minutes to complete the distance at three-quarter throttle as apposed to 2 hours 15 minutes down stream. A larger engine size would be more suited on this section of river.
We were glad to see Upper Lode Lock and to our delight it was in our favour.
We arrived at the Avon Severn confluence at 3.35 pm and decided to moor for the night below the Avon Lock on Tewkesbury Town moorings at a cost of £3 for the night.
Sue watched the soaps on the telly and I settled down to finishing the day off fishing. It was while fishing a lovely black swan appeared begging for some left over tit bits. Though we gave him plenty he hung around us all night.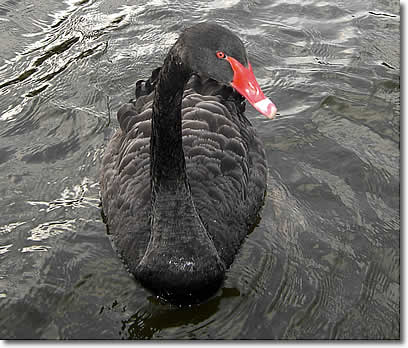 The Hungry Black Swan
Just before dark my brother rang asking if he could join us again for the last day of our holiday as he enjoyed it so much a couple of days before, of course we agreed as he could do the lock work on the remainder of the trip.
Total Miles Covered: 24
Bridges & Locks Passed Through: 12 Bridges & 2 Locks
Average Speed: 4.2 mph
Fastest Speed: 4.5 mph
---
Thursday 21/09/06
We awoke to a beautiful morning, clear skies and very little breeze and brilliant sunlight. My brother arrange to meet us at around 10.30am, so we had plenty of time to prepaid the boat, have breakfast and a quick walk into the town for morning papers.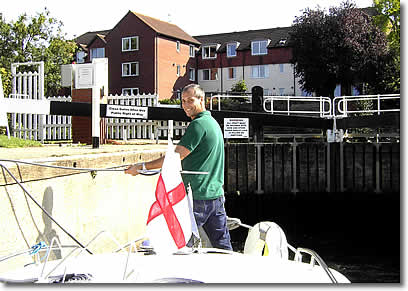 My Brother Peter On The Forward Rope
He arrived on time and we set off initially cruising under Mythe bridge and up the River Severn to the M50 Motorway where we turned around. We then cruised back to the Avon Lock which we passed through and back onto the River Avon. A turn right out the lock took us down to the end of navigation where again we turned about and headed up stream under King Johns Bridge and passing Tewkesbury Marina on the starboard side.
We slowly cruised up stream passing the Fleet Pub, Breedon Marina, Strensham Lock, under Eckington Bridge and up to Nafford Lock.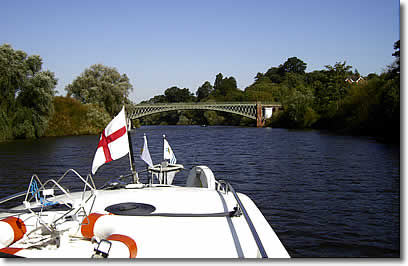 Cruising Up The River Severn Towards Mythe Bridge
We moored below Nafford Lock where Sue cooked us lunch, after, we explored around the lock island looking for future likely fishing spots. We departed heading south at 3.05 pm and arrived at Defford our home base at 3.35 pm to finish the trip.
Total Miles Covered: 15
Locks Passed Through: 2
Average Speed: 5.23 mph
Fastest Speed: 6.0 mph
---

On Our Way Back To Base On The River Avon
Summary Of Trip
All in all the trip was very enjoyable and the boat performed well, the rudder safe we had fitted earlier this year seemed ok and the battery charging system worked ok, however, we were careful not to over use the battery power unduly.
Perhaps we ought to consider purchasing a good generator as to be safe on the longer trips.
The only other small worry was the 15hp Honda engine was under pressure while passing through the partings, where the river current was the strongest. Possibly a 25 hp engine would perform better?
We plan to cruise up to Stourport next year all going well; we are quite looking forward to it.
Total Distance Covered: 91 miles
Average Cruising Speed (Excluding Locks but including bridges): 4.65 mph
Maximum Speed: 6 mph
Fuel Used: Approx 9 Gallons (£36)
Miles Per Gallon: Approx 10
Actual Cruising Time: 20 hours 50 minutes

(Many thanks to David for his kind permssion to include his © photos and text on this site)