Do I miss my Viking 26ft wide beam boat?
We have been on the Lancaster Canal for the past 14 years and are now on our third boat. Our first boat was a centre cockpit Viking 26ft. We had this boat for four years and my wife Joanna loved it because rumour has it that I have a slight snoring problem and the stern sleeping quarters enable her to have a good night's sleep.
The second boat was a Viking 26ft wide beam. This boat is superbly designed using every bit of space. The under cockpit bunk proved ideal for me and the sound problem of me snoring was never mentioned. This boat had been a hire boat on Lake Windermere and had been knocked about and several windows were leaking.
I read with interest the forum on how to cure a leaking window. The only way is to remove the window and frame and renew the flexible seal between the fibre glass and aluminum frame. I also fitted a bow thruster to this boat and had the canopy altered slightly so that I could lower it and cruise under the bridges with ease. On top of the bow thruster I just had enough room to fit a ridged plastic water tank. All the upholstery had to be replaced and I fitted a rudder indicator and a gas hot air heating system. The hull was also treated with Blakes gelprotec SFE 200 Osmosis protection.
Although we enjoy cruising I think messing about and altering the boat to your own needs gives as much pleasure as sailing. One of the problems we had was that we were unable to have a gas fridge on board a petrol driven boat due to the boat safety certificate. We tend to use our boat as a semi static caravan and a flat leisure battery was always a problem. The only answer was a bigger boat and one fitted with a diesel engine. I had the idea that if I could purchase one for not much money I could refit the inside layout to our own requirements.
After surfing the internet I spotted a Princess 32 for sale. This boat had been sunk in the floods on the river Severn and was quite badly damaged. With great enthusiasm the boat was purchased and transported from Southend on Sea to my home in Bury. The boat Tilapia needed a complete refit and because I had paid so little money I decided to fit both a bow and a stern thruster. The boat has twin diesel engines and I fitted a much lower canopy than the original Princess canopy. On the Lancaster Canal there appear to be more narrow boats than cruisers and the thrusters really help keeping out of their way.
The boat is now finished and is really comfortable. We even copied the idea of the under cockpit bunk like we had on the Viking 26 ft wide beam. We have been members of the Viking Boat Owners Club from the start and fly the members bungee with pride. Thank you to all the members of the club for their contributions to the forum and we hope that although we are not Viking owners we still think they are great boats and very good value.
Joanna and Peter Maskrey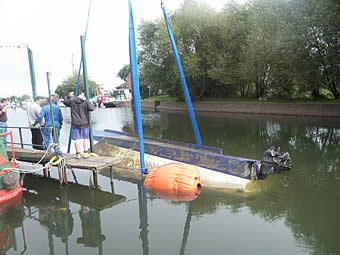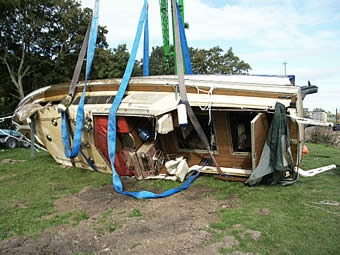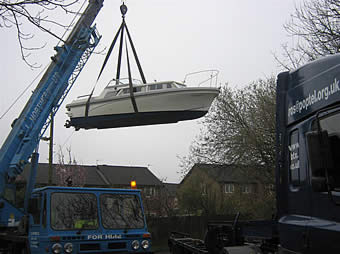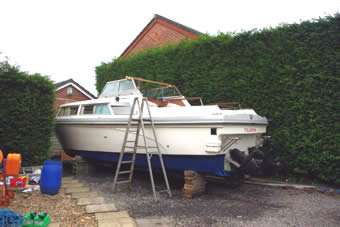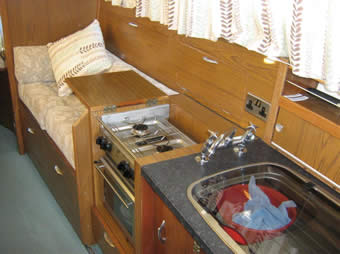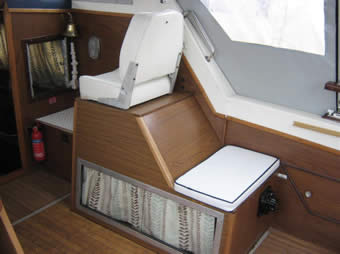 (Many thanks to Peter for his kind permssion to include his © photos and text on this site)