We bought our 1996 Viking 24 wide beam on August 2007 and it was a close call between her and more modern versions (which were slightly more expensive). In the end we opted for the older version.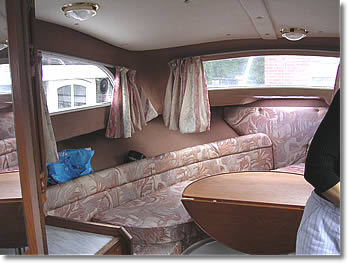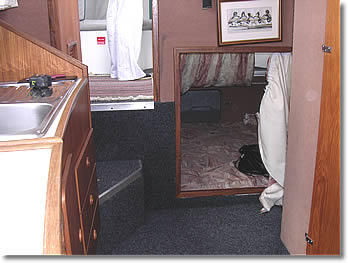 She had been very well looked after by her former owners and clearly much loved. As we had already looked at a couple of one or two year old models with the higher spec modern finished interiors, this had set a quite high bench mark!! Our new boat was in very good condition and sound. The rest we can deal with!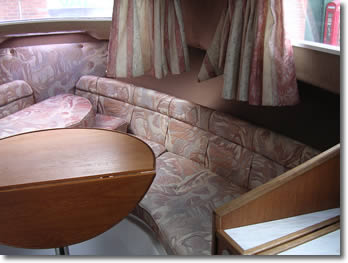 Whilst she was in very good condition, we wanted to make the internal appearance more to our taste and generally give it a make-over (but with not a price of MDF in sight, nor long flowing cuffs!!!). Nothing too major, but project No 1 would consist of a change in soft furnishings, carpet and curtains.
We are both good on the sewing machine, and have a book on re-upholstery which gives some useful pointers. If you have anyone in the family with sewing skills it really is not difficult. We opted for a burgundy patterned upholstery for the seats, with a lighter coloured piping (if the sewing machine has a piping foot, this again is not a difficult DIY project). The new fabric is simply laid, right-side upto the old cushions and pins added to note the seam positions. The piping and seat cushion sides pieces are then sewn on at this position and the whole thing fitted onto the cushion (having now removed the old covers) by stapling into the backing board. We then stapled some upholstery vinyl to the seat cushion back-boards to make these more presentable (especially as they are removable).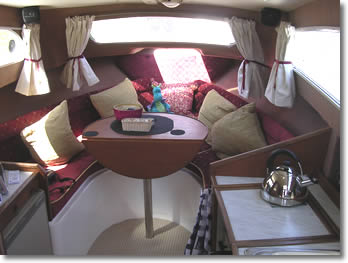 The seat backs required even less sewing skill, as this is entirely stapled on and only required sewing to create the join in the fabric to the required length. The previous backing material was stapled directly onto the backing board, both from the front and the back, and pleated (the pleats concealing the slaples to the front). It was a bit tricky to understand how to do this, but once worked out it was very simply done. The small triangular sea back to the bow was simply cut and stapled on.
My mother in law kindly offered to take the helm of the sewing machine and sort the curtains out (this is a black art and so I thought she was perfect for the job LOL!). As we had chosen a light cream coloured curtain fabric, we elected to add a 'black-out' lining to the curtains so we are not woken at 3.30am in mid- summer.
Kathryn added the finishing touches with some tie backs. This sounded a great idea in theory, but we then realised that tie backs require hooks to tie back too. Hooks require holes!! After much thought I eventually opted for drilling small pilot holes at gunwale (running board) level so I knew there was some meat behind where I was drilling. PLEASE BE VERY CAREFUL WHEN DOING THIS AS ON OUR MODEL, THE GAS PIPES ARE CONCEALED BEHIND GRP UNDER THE GUNWALE TO PORT AND STARBOARD – I won't tell you how I found out this little gem!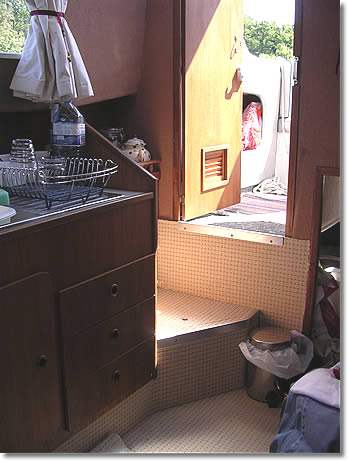 Lastly, we wanted to change the carpet from the standard issue Viking 'hairy' stuff to something a little more homely. We visited one of the major carpet retailers and wanted something off one of their rolls. We found something we liked and it was felt backed and ready to lay. The look on the very attentive salesman 's face was priceless! After all his efforts and the usual drawn out selection process, we then ordered 1.5m of it!!! He firstly wrote it down as 15m until we corrected him. He must to this day think we live in a very small house!
The carpet was a little tricky to lay, being in such a confined space with no room to lay it out. There was plenty to include replacing the vertical skirts too (stuck on with contact adhesive) and the step leading to the cockpit. This was a little more tricky on the step, which has a removable cover to access the compartment below. I found the best way to cut this was to stick an oversized piece of carpet to the plywood lid, then carefully cut out the shape using a Stanley knife. When the lid was put back in, the 'female' piece of the carpet was easy to align, trim and stick down.
Upholstery materials came from John Lewis and carpet from Carpetland. We love the made-over cabin, which has given her a new lease of life. Clearly everyone's tastes are different but we love it!
Andy and Kathryn
(Many thanks to Andy for his kind permssion to include his © photos and text on this site)