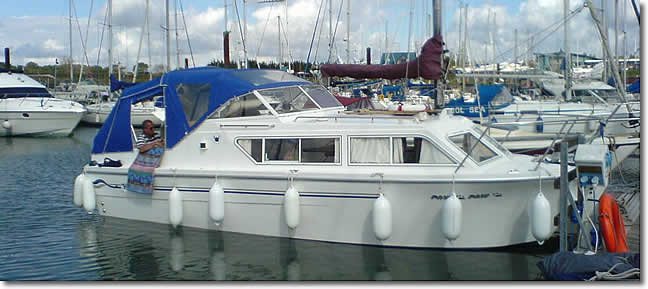 Our boat is a 2006 26 Wide Beam fitted with a Suzuki DF60.
Over the bank holiday weekend we decided to take a trip out of the River Chelmer where our boat is moored and along the Blackwater, round the coast and along the River Crouch. So with GPS / Sounder, Paper Chart , 5 life Jackets, VHF and 4 Mobile phones we set off, the weather looked fine except for a question mark over hanging Monday.
PAW PAW Trip Plan Crew - Jim, Julie, Fred, Vicky and Max the dog!
Saturday
0800 - Depart house
0900 - Depart Papermill
1400 - Lock out through Heybridge Basin sea lock
1620 - Latest arrive at Tollesbury Marina (VHF 80 or 01621 869202) High Tide 1438 4.9M http://www.woodrolfe.com/index.html
Marina has swimming pool and tennis courts - but don't get too excited
2015 - Meal at Harbour restaurant 01621 869561
Sunday
1300 - Depart Tollesbury Marina
1500 - Latest arrive at Buxey Sand (Holliwell point High Tide 1513 5.0m)
1520 - Enter River Crouch Est - along river to Burnham Yacht Harbour (VHF 80 or 01621 786832)
http://www.burnhamyachtharbour.co.uk
Maybe go looking for the seals at low tide exploring river Roach - Low tide 2115!!
Access to the Marina at all stages of tide
2030 - Meal at 'Swallow Tail' Restaurant at the harbour
Monday
0900 - 1100? - Depart Burnham Yacht Harbour
1300 - Be at Buxey Sand ready to cross at 1330ish (Holliwell point High Tide 1543 5.0m)
1615 - Latest 1600 arrive Heybridge Basin ( H T 1615) (VHF 80 01621 853506, 07712079764)
1630 - Up the Chelmer
2030 - Arrive back at Papermill
2100 - Pub Meal at Griffin in Danbury
Surprisingly everything went almost exactly to schedule.
---
Saturday
As usual we were late getting away from home plus Vicky forgot her Contact lenses so Fred missed his breakfast, driving back home to get them. So about 9:45am we set off from Papermill, roof and screen down due to the low bridges, the weather was fine after a dodgy start and very warm when the sun pushed through.
We arrived at Heybridge around 1.45pm just as they opened the sea lock for the first lot locking out, as we had prebooked we were first in - not even any need to moor up. By 2pm we were 'seaside' and the conditions were slightly breezy but flat and the tide was still running in.
I had recently fitted a new prop a 13.75" 13 Pitch, it was very soon apparent that this was better than the 13.5" / 15 pitch that was originally supplied. Against the tide we had around 9mph on the GPS and we did a couple of runs as the tide turned and got 11.2 mph in each direction - this compared with 9 mph on the old prop. In fact the new prop meant we could cruise at 8.5 - 9mph with little more than half throttle.

We saw a Common Seal (which is the rarer type) swimming along but apart from that it was a case of just cruising and looking at the dozens of other boats. 15 miles later we arrived at Tollesbury marina which has access just over 2 hours either side of high tide for our draft which is 2'8" to the keel and PropGaurd - take no notice of the Viking brochure which says 1'9 draft! .
The PropGaurd is one of our best extras - it improves the steering no end, especially in reverse and of course within reason it protects the prop and easily shreds weed with a quick touch to the reverse.So we moored up on a visitors pontoon, Sun shinning to the rear cockpit where we had a few drinks before eating in their club house.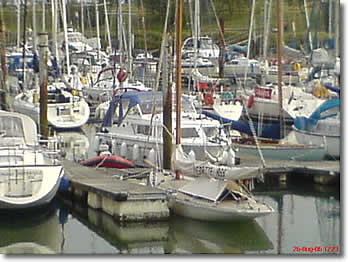 Sunday
We got up to a Sunny morning and it was a bit more breezy than the day before - however it was West / N Westerly so the coastal waters should be fairly calm.
The Marina had informed us that we could get across the sill at 1pm and by 12.30pm many boaters were looking a the sill gauge, I knew the depth in our mooring from the day before and the depth as we arrived and by 12.35pm we edged out at snails pace across the sill. Our sounder showed over 3' so we were away.
The next obstacle was 'Buxey Sand' - a huge sand bank stretching out 6-7 miles of the coast blocking the northern access into the River Crouch estuary. Yet at 2 miles out it is less than a mile across and I had worked out that we should have enough depth across this point from about 2 hours before high tide. We crossed it at 2.00pm and turned into the Crouch estuary.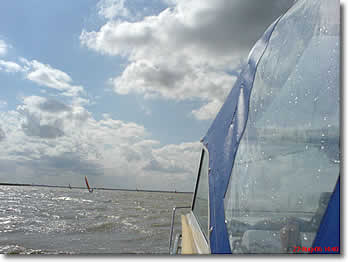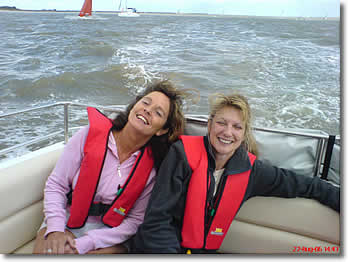 An incoming tide meant the Westerly was really making some white horses but we cruised at 10mph quite comfortably aided by the tide. As we reached Burnham Yacht Harbour I called the Harbour Master who asked us to wait 10 minutes whilst he located a visitors mooring. Again we had prebooked and it was just as well we had, as this was the start of 'Burnham Week'.
Whilst we waited we refuelled on the Wallesea fuel barge taking on about 70 litres at a whooping £1.25 per litre but the convenience of just pulling up and pumping it in was to much to resist compared with the alternative.
Then we went in to our mooring which again was with the rear cockpit facing the late afternoon Sun. The river Crouch, which had been a mass of white horses, quickly flattened completely as the tide turned to run with the wind.
We sat 'wine open' on our Viking 26WB surrounded by many large Yachts, large motor cruisers and foreign voices - - Not Monte Carlo but not bad for the East Coast. Just after we got settled we noticed a large motor cruiser coming in that had been waiting to leave Tollesbury at the same time as us, likely he did not get across the sill until nearer high tide and then had to go 14 or 15 miles extra around 'Buxey Sand' - which must not be crossed on a falling tide.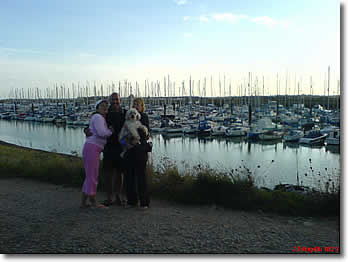 We put the hood up and walked through the park along the river into Burnham, found a pub with a balcony set into the sea wall, sat down had a few drinks, watch the sun set as the last few boats came in and the walked back to the Yacht club for our evening meal.
We were back to the boat by 11.30pm to Watch the Grand Prix highlights, have a couple of night caps and we were all out for the count until morning.
Monday
Just one photo was taken today at 10.23am just before leaving the marina!
We awoke early and the Sun was shining, it all looked good but a check on the forecast and a walk outside soon told us that the wind had somewhat strengthened. We checked the shipping forecast and sea conditions were 'slight ' which of course, sounded OK.
The tide was just turning to come in, so we had a couple of hours for breakfast and then it was decision time - 1/ make the trip or 2/ leave the boat where it was or have it taken back by road during the following week.
We decided to head out to the mouth of the river and have a look. It was a hard slog against the tide and we averaged about 7.5mph - it was pretty choppy but it was OK, "anyway" we thought "as we turned up the coast it would be more sheltered" as the wind was coming against the tide along the estuary.
So we decided to head north and cross Buxey Sand. We headed out a few miles off shore to the main marker which indicates the point to turn north. We were over Buxey Sand with 4' very slow at 2-3mph, but then 3' and then 2'8" (our draft) - there was a faint touch on the bottom from the propgaurd, so the crew went forward in the boat and we slowly proceed north, eyes on the depth gauge and very slow. The tide was rising quite fast but it was getting very choppy so we needed some extra depth. It seemed to last for ages but in reality it was 6 or 7 minutes and the depth began to increase 4', 5', 6', we increased speed to 5-6mph 14' and the GPS indicated that we should be following the edge of the deep water channel.
We were now almost 'side on' to the West / North-westerly wind and waves, we increased the speed to about 9mph which gave the smoothest ride. No longer were there anymore boats in sight - but "not much longer" we thought and we would turn into the sheltered waters of the river Blackwater, we could hug the shore line within a few hundred yards and run with the incoming tide.
Or rather not! - We turned Northwest into the Blackwater at Bradwell Power Station and the swell and waves caused by wind over-tide worsened, visibility was difficult and lots of spray was now getting pushed through the gap where the canopy meets the front screen. All in all, pretty unpleasant and nerve racking for us.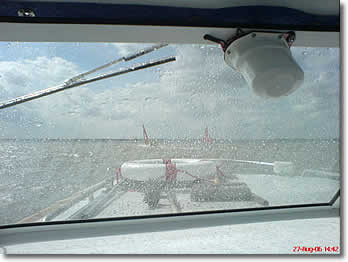 The South shore was very exposed so we headed across towards the North Shore at this point the river is several miles wide. About half way across and the clouds were dark and the rain came down a torrential downpour for 10 minutes, we had no choice but to just look out for marker buoys, study the GPS for every detail to make sure our path was clear to push on across the river.
Finally the rain stopped and the waves lessened as we got closer to the North Shore and followed it along looking for depth and shelter as we went keeping between quarter and half a mile out. We past Osea island and called the Heybridge sea lock to say we would be there at about 2:30pm - well ahead of the 4pm final deadline the lock keeper had previously given us.
The last few miles were calmer but still like a completely different place, compared to how it was on Saturday for our outward journey.
We arrived at Heybridge at 2:30 and called to get access into the calm fresh waters of the river Chelmer "sorry was the reply we are not 'locking in' until 3pm now" - then at 3pm "sorry we are not locking in until 3:30pm now, you just have to wait !" - It was not what we wanted to hear as our final leg to our moorings would now be anything but leisurely and a stop at the lock pub for a relaxing drink was out of the question. We circled round and round and the black heavens opened once more, complete with lightning show.
We locked through at about 4pm in the end, moored up to drop the screen and canopy and then made our way through Maldon and into the conservation area of the Chelmer valley. The skies cleared and it was a lovely sunny evening, food was prepared and eaten as we travelled.
It all suddenly just seemed a ridiculous contrast to our situation a few hours earlier.
By 8.30pm we were moored up back at Papermill wondering exactly what we had done. The truth is that we should not have made the return journey that day, we learnt an awful lot very quickly - the main thing being that if it says 25 mph winds do not take any notice of the prediction of 'slight' sea conditions - it turned out the winds were even stronger than forecast.
We will never attempt a journey like that in the Viking 26WB again unless the conditions are clearly fine and relatively calm.
That all said it was a great weekend and one we will never forget. We cant wait for next Summer and a long calm spell so that we can do it again.
It is testimony to this Category 'C' cruiser that it can handle it - If it had not been for the water pouring in above the windscreen I think we would have felt a lot better about the whole situation. Luckily we had several large towels on board but it kept the crew fully occupied soaking up the water on the chart table and ringing the towels out in the shower. We were able to prevent no more than a small amount actually getting inside the boat.
Jim, Julie Max our Dog and ship mates Fred and Vicky