Earlier this year we debated long about our boat, we were feeling quite limited by our local river.
We had decided to take a trip on the Thames and looked at how could do that with the time we had. The choices were as follows:
1/ Go round the coast, overnight on the Medway and take the early morning tide up through London
For: Adventure. Against : Total weather reliance, time consuming leaving little time on the best part of the river, high fuel cost due to the tidal section.
2/ Have our boat road trailered there and back by Richard who does it for Viking
For: Very Reasonable cost £500 ish, Convenient Against: nothing
3/ Buy a trailer and a car that can transport our boat.
For: We could do 2 or 3 trips a year and we could take the boat out ourselves for servicing etc.. , boat trailers hold their money, we would like a new car and a good reason to buy a Land Rover. Against: Big commitment
We decided to take the chance and went for no.3
We phoned around to find a trailer manufacturer that said they knew the Viking 26WB very well and could make a trailer that was right for it. We ordered it and collected it 5 weeks later.
We then did a 6 mile test run helped by Richard which showed that the trailer needed significant modifications by the manufacturer before it could be used safely as the front part was far too flexible and the axles were too far forward. Not quite what you would expect when buying a purpose built trailer but the end result many months later after 2 extra main rails fitted and the axles were repositioned seems to be that we finally have a very strong well balanced package.
So having got some final corrected parts for the trailer 13th August we were in business.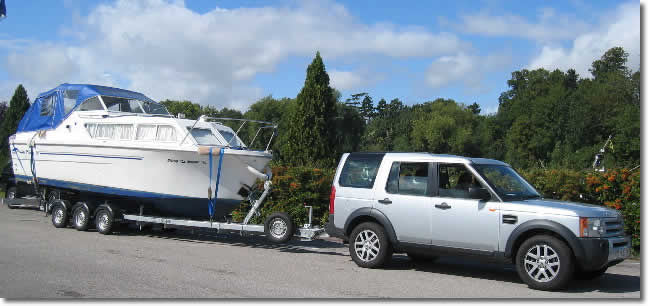 ---
Our trip plan was in 2 parts A and B as follows:
A- 15th - 19th August - Windsor to Abingdon
- 20th - 23rd August - back to work
B - 23rd evening - 28th August - Abingdon to Windsor
A
On the evening of August 14th with the help of friends at the river Chelmer we pulled Paw Paw up the slipway on the trailer. Early next morning Julie and I set off heading southbound M25 to Windsor Marina.
The boat towed perfectly. 50mph seemed about the right speed, We stopped twice just to make sure all was well and that there was no sign of the movement and flex that we had previously seen. We had no cause to brake sharply during the journey but it felt like the trailer and car was now a good solid towing package.
I had wedged some small pieces of carpet in the trailer frame, the idea being that if anything flexed or moved in the wrong way then these carpet bits would drop out . They are still there after both journeys so all seems well.
We arrived at Windsor Marina and spent sometime cleaning the boat and changing the gear oil. Windsor Marina were a great help with advice and for parking our car and trailer securely whilst we were away.
Late in the afternoon we backed Paw Paw down the slip and onto the Thames. Fully Fueled with 130 litres on board we set off.
The Thames was still running high from the heavy summer rain but now the weather was just perfect.
--------------------
From the trip up stream here are some notes that may be useful for anyone doing a similar trip .
Cockham: East of Cookham are some National trust moorings, main bank and Island. These are really lovely with high woodland banks.
Hurley: Great place to moor near the lock and a nice walk into Hurley and a small shop but avoid Ye Old Bell for food unless you are the only ones in there the service was pretty poor - It is a shame as the building is a real gem.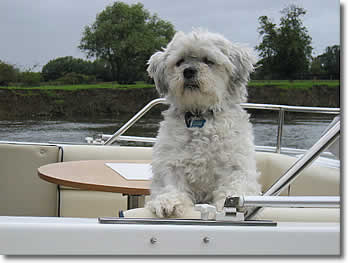 Henley: Plenty of moorings and easy access to the shops, Henley has retained all it's 'English' charm despite being a large town, Lunch at The Angel riverside pub, great food and excellent service and good beer.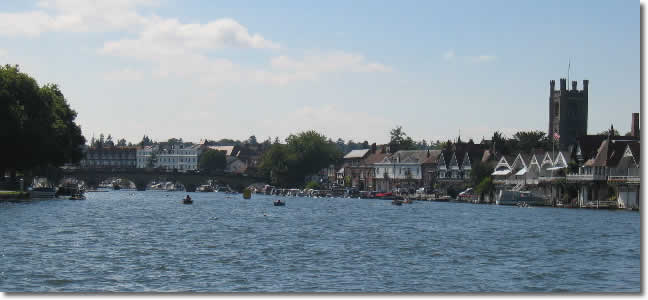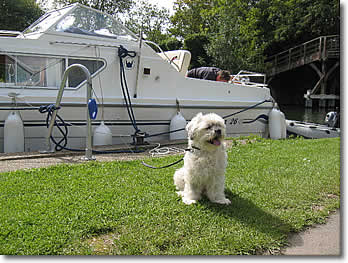 Goring: Moorings immediately below the lock in fast flow from the weir, easy access to Goring which is kept immaculate,
Cleeve lock: Great fishing just below Cleeve lock, 6ib carp, plus an 8lb and a 6lb Bream all in a 1 hour stop for lunch !
Reading: Being a large commercial town spread along several miles, this was not our cup of tea so we pushed through to rural areas
Shillingford Bridge Hotel: Mooring right outside we met up with some friends for the evening and had a meal in the hotel bar. Great food and good service.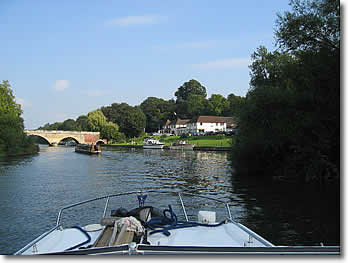 Clifton Lock: The Plough inn: Just before Clifton lock take the weir stream instead of the lock cut, mooring for the pub is a mile or so up on the left, Good food and good beer, ideal for lunch, only room for one or 2 boat moorings though.
----------------------
We pulled into Abingdon Marina where we had prebooked a visitors berth to leave the boat in secure moorings for 5 nights.
To get back to Windsor we had to get a taxi and a train - If ever you do this then do not make the mistake we made, we went to Radley Station, it is closest to Abingdon and on the direct line to Windsor but it is remote and deserted like you would not believe and it was raining ! There was virtually no shelter and many of the trains do not stop there. So finally after a 40 minute wait we got a train. Then another taxi to Windsor Marina total cost £46.
In the Taxi to Windsor I asked the driver how much for a journey to Abingdon ? - He said £60 !! - so there would be no train journey on the way back for us !
8.30pm Sunday and we were home looking forward to going
------------------------
B
Finally Thursday 5pm 23rd August arrived and we left work and set off around the M25 to drop our car back at Windsor Marina. The trailer was still there of course. The Taxi man from the previous week arrived on time and drove us to Abingdon arriving at about 8.30pm - a completely hassle free trip without having to lug bags along for £15 more than the train, £15 well spent !
Friday morning we left Abingdon Marina, the sun was shinning, the river flow was now a bit less but would be going with us all the way back to Windsor.
As we would be aided by the flow we set up our dinghy and outboard to tow behind, the visitors license for that was a whopping £17 for 2.3m !
Abingdon: We were surprised by how nice Abingdon looked, standing on the bridge the view was 'picture postcard', we went in to town to get a few provisions and then set off down river.
Fuel and chandler: There is an easy fuel point for petrol and diesel just as you leave Abingdon downstream on the right. We added just 50 litres, even with the strong flow against us on the way up our Suzuki DF60 we had only used 50 litres which seemed incredible. For the whole round trip it turned out to be about 75 litres.
Cleeve Lock: The moorings here are below the lock on a large field, with fantastic evening sun and sunrise, a really beautiful setting and more great fishing - loads of Roach, and a carp of 7lb
Sonning: The public moorings are not that great and loose the Sun early, if you fancy a walk then moor on the left half a mile down river on the towtow path side, this looked like a great spot. We moored outside 'The Great House' and had a drink in their bar, their moorings were empty and much nicer than the public ones.. The Bull Inn at Sonning was great evening food and beer and we met up here with some friends who stayed over the following day.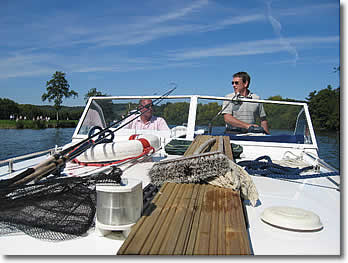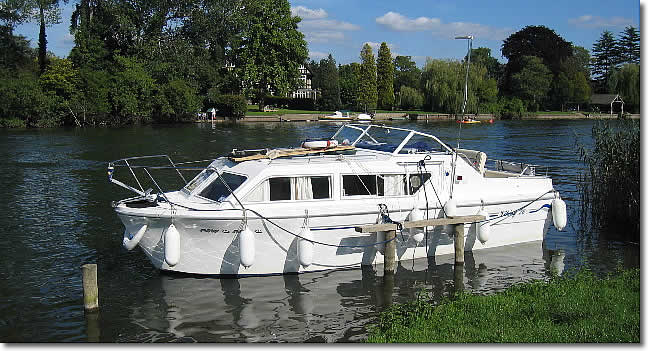 Aston: Below Hambledon lock on the right is a long field of moorings, some of them may need a long plank or a dinghy to get ashore but it is great place to stop. A walk back to the incredible walk across weir system is a must as is the near by Flower Pot pub - another great food and beer pub. It does have a small mooring jetty but this was pretty busy.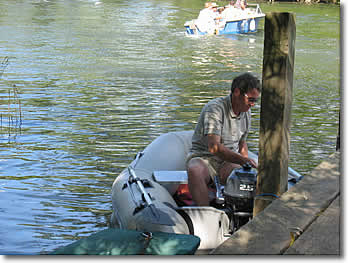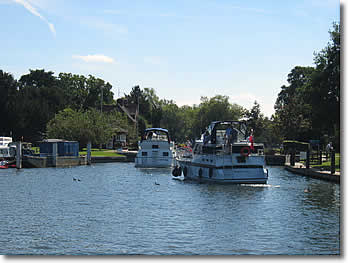 Medmenham: Further below Hambledon lock on the left are extensive overnight field moorings, Great sunset and sunrise, good roach fishing.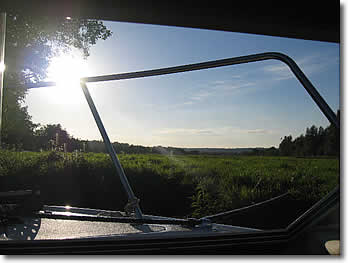 Hurley: This time we tried Ye Old Bell again and it was really bad again, we ended up leaving and saw at least 2 other couples do the same whilst we waited (can it be that hard to get a cheese ploughmans with a bit of ham added when they have ham sandwiches on the menu ?), so we tried the The Rising Sun a bit further up the road. hmmmm not much to say on that, it was OK but not a smile in the place amongst the bar staff. So to sum up Hurley "Great place but pubs could be a lot better"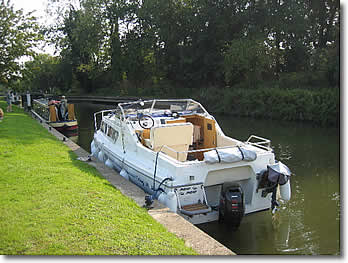 Cookham: Again we moored overnight at the beautiful National Trust moorings that I already mentioned in trip 'A' but as we looked for a mooring spot we were called for help by a Viking 24, incredibly the couple on board were called James and Julie. - The same as us ! Their batteries were totally flat. We put our spare on their boat and got them started and suggested they leave it running for 6 hours or at least.
-----------------------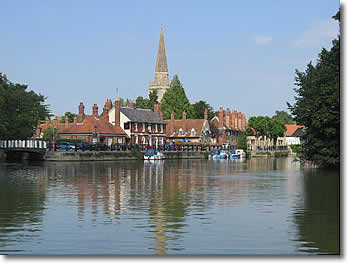 Tuesday morning we set of for the last 2 hours to Windsor Marina.
Problem
The river flowing the trailer in the water, just the 2 of us - how do we get the boat on the trailer in the flow ?
I tried driving it towards the guide poles but it was nowhere near possible in the flow.
The answer we found was very long ropes, one at the front and one off the upstream side at the rear. We then got the bow into the quay aside the trailer but upstream, gave one big push out and as the flow took the boat past the guide poles Julie pulled on the front while I kept the back in line.
Next Problem
So the boat was now floating on the trailer with the snubber hard on the bow. I pulled the car forward but the trailer was stuck over the ledge at the back of the slipway. The river level had dropped almost one foot since we launched and the wheels had to go beyond the slip to get the boat on. Windsor Marina had said prior that it may be a difficult recovery but the crane was there if needed !
So I reversed the trailer 2 feet back and got my mask and snorkel on and set about placing some stone slabs and rocks in-front of the lead trailer wheels and some bricks under the car wheels to raise it high as it went forward, it worked and Paw Paw came out dead center on the trailer.
2 hours later we were back at Papermill on the little river Chelmer.
-------------------------
Summary
It was a great trip and we cant wait to do another, providing we find an easier slipway to use for getting out we would say it was much easier to trailer a Viking 26WB than we had expected. For us it is great to have our boat on a river 10 minutes away from home but where ever it were based we would soon feel limited so with the trailer it opens up so many possibilities without the cost, time and weather dependency involved of making the journey around the coast.
Jim Rainbird