One of our pet hates of our 2006 26WB has always been the pull down sink supplied in the toilet, somehow when we ordered the boat we missed that, otherwise we would have ordered a proper sink if we had thought it through.

Like other owners we have since talked to it means that shaving and cleaning teeth is usually done in the galley and there is no good place for a large mirror in the toilet either because the pull down thing is where you would want to put a slim mirror cabinet.

We did not realise how easy it was to solve the problem.

At Jones Boatyard Chandlers St Ives Cambs we found the small white plastic sink and chrome shower / tap combination handset that you can see in the photo. The handset works as a normal tap when hooked on the sink then you just pull on the water outlet part and it changes to a shower spray, it has a lever on the top for turning the tap on and off so you can just leave the main mixer tap open and you have on/off control at the handset. These 2 items were about £70.

Remove the existing pull down unit and disconnect the outlet pipe, then fix the sink in the corner, the existing outlet pipe was in just the right place already, all I had to do was extended it a few inches with a plastic joiner and 2 clips.
The white cowling you can see covering the outlet pipe is from B&Q £5.95 .. In the drain pipe / plastic pipe section.

The bathroom cabinet was ordered on-line from Wilkinsonplus.com from their bathroom furniture section (£20) as was the wall bracket to mount the new tap handset for use at the sink (£7) this included another handset and hose that we did not need but we wanted the bracket as it was ideal for the job. B&Q also have a similar bracket at £11.

So for a total cost of about £100 we now have a bathroom on our boat that works properly with no more shaving over the galley sink !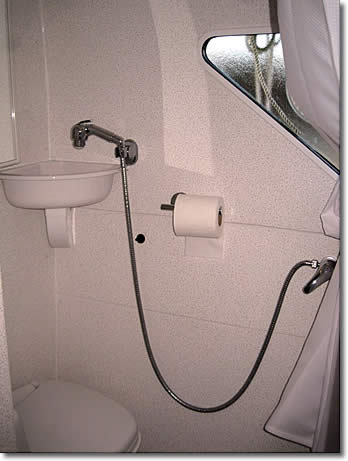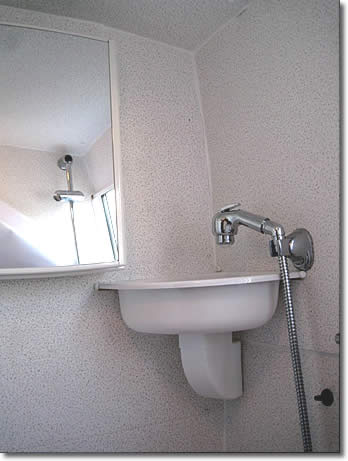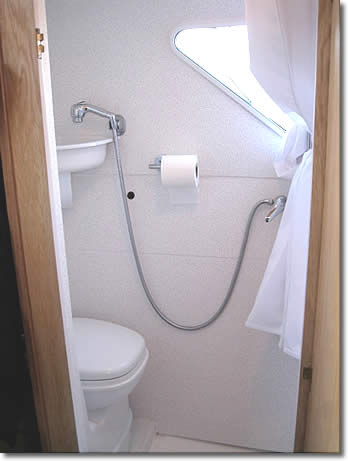 (Many thanks to Jim for his kind permssion to include his © photos and text on this site)